BDH is Butuan Doctors' Hospital, one of the premier tertiary hospitals in Butuan. They celebrated its foundation day last October 9. As part of the festivities they included a fun run for health that happened last October 4 in the early morn.
Which means I wasn't there to catch a firsthand glimpse of the activity.
They had a 3 kilometer and 5 kilometer race. A turnout of approximately 1000 participants. The route was from BDC open grounds(Butuan Doctors' College, my alma mater ;P) to Jose Rizal Plaza going through the main road of JC Aquino Avenue.
There was an awarding ceremony post fun run. There was a top ten finishers for each event with special prizes for the youngest kiddie finisher, senior runners and top 3 lady racers.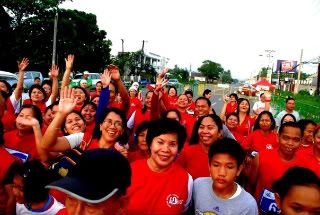 Photo credit-- Bob Tan (Official Photographer), courtesy of Katrina "Pebbles" Estacio.
Thanks also for the info and practically writing this one Pebs! You're the best!
hehehe