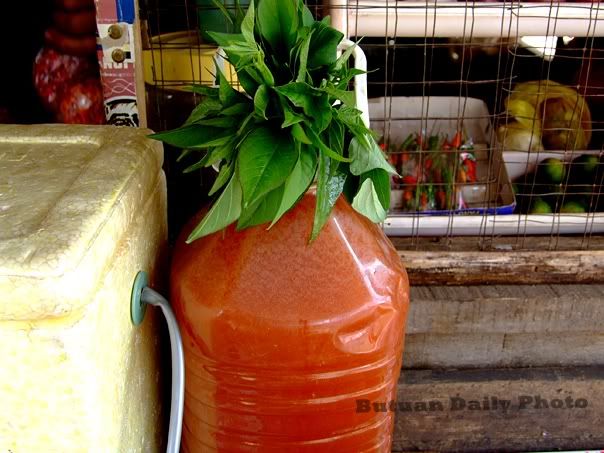 The orange liquid is called Tuba (Toddy) a popular Filipino rural alcoholic drink. They say it tastes sweet ( I don't think so). I took this photo a while ago I've forgotten the reason why there's kangkong (?) leaves covering the opening.
According to
wikipedia
:
Tuba (or toddy) is a type of hard liquor made from fresh drippings extracted from a cut young stem of palm. The cutting of the palm stem usually done early in the morning by a mananguete, a person whose profession involves climbing palm trees and extracting the tuba to supply to customers later in the day. Sometimes this is being done twice a day so that there are two harvests of tuba in a day occurring first at noon-time and later in the late-afternoon.
Normally, tuba has to be consumed right after the mananguete brings it over or it becomes too sour to be consumed as a drink so that any remaining unconsumed tuba in the day is being stored in jars for several days to become palm vinegar. Additionally, tuba can be distilled to produce lambanog, a neutral liquor often noted for its relatively high alcohol content.
It can also be made into an eggnog. (Kinutil).
Additional info:
According to one of my readers, Mike, Tuba can be mixed with Milo (chocolate mix), or chocolate (tsokolate), egg, and even beer. This is what they call in Cagayan de Oro as koter (kinutil)