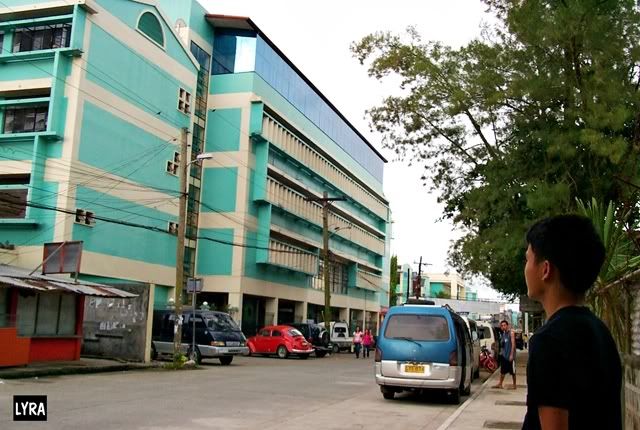 San Francisco Street.
Former location of Urios College High School. This is the new FSUU (Father Saturnino Urios Nursing) College of Nursing building(?).
History of FSUU:
In 1901, the Butuan Parochial School was founded by Fr. Saturnino Urios, S.J. and opened its doors to welcome the first pupils. A low building made of bricks adjacent to the old church was built to house the first pupils who trickled in slowly. When the state started asserting its influence and control over public and private schools, the late Fr. Jose Buxo, S.J. was believed responsible for the government recognition of the parochial school. In 1935, the Missionaries of the Sacred Heart (MSC - Dutch Congregation) took over the missionary work from the Jesuits. In 1939, the high school was opened.
This became Fr. Urios High School, named after Fr. Saturnino Urios, SJ. After the ravages of war, the slow and tedious work of reconstruction began and once again, the school was on its feet.
n 1947, the high school department turned out its first graduates. In the early 1950's the old brick elementary building had to go to make room for the new church, so a wooden grade school building was constructed along San Francisco St. All grade school classes were then transferred to the new building. In 1970, the name of the school was changed from Fr. Urios College to Urios College. At present, the name is now Father Saturnino Urios University-- the first University in Butuan and CARAGA region.
Quoted from from
FSUU website
with added info by me.
FSUU Hymn

Seat of wisdom of knowledge,
in this southern Timberland,
Fountain you will always be
of the love of man for man.
In your fold the youth awakens,
in the sacred, noble truth,
That for man to find happiness
is to serve his fellowmen.
FATHER URIOS (Urios College), hail to you!
We your children far and near,
Shall your truth forever hold,
Shall your name forever bear.