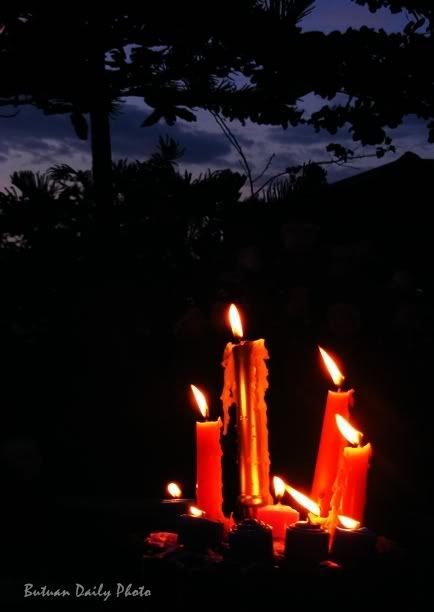 Every November 1 and 2, Filipinos return to their hometown for a unique kind of family get together. We spend the days at the local cemetery to visit our deceased family members. To the uninitiated this means that we bring foods, flowers, lots of candles, and sometimes musical instruments to the burial place. I know picnics and cemetery doesn't normally don't go together but in our culture they do.
Yesterday we left for Barangay Libertad cemetery at 3 in the afternoon. We arrived at around 4. Traffic was relatively light compared to last year although the place is as crowded as ever. Kudos to the traffic enforcers for making our trip there stress-free.
Because we spend two days yearly at this place, a number of well-to-do has constructed structures to make their stay at the burial site as comfortable as possible. This is why my uncle called our cemetery as "subdivision of the dead." It is funny because it has truth in them, and sad too because the place looks too overcrowded with all the concrete buildings close together. Anyway, before I rained on anyone's parade you'll see why at the photo below.
Some of these buildings are bare with only benches for sitting, while others have the works: airconditioning, restrooms, appliances etc. In our case, our elders opted for a garden memorial to make it more easy on the eyes (less claustrophobic too).
Our family usually spends the first few minutes (or hours) talking and eating. When it gets darker, we pray. Then we talk some more, take photos, laugh.
We left at around 6, when the sun has set, and the night is more pronounced.