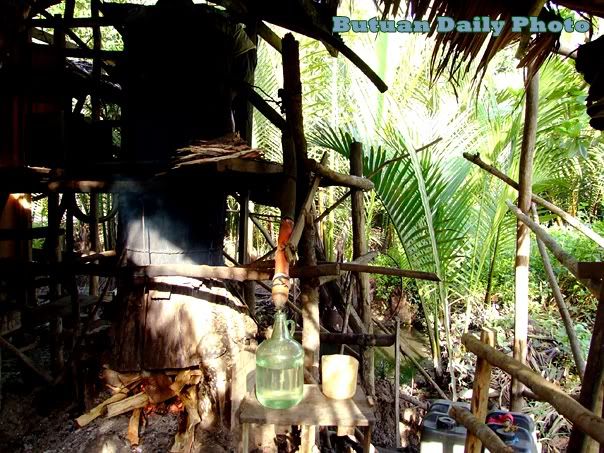 Like lambanog, laksoy is another poor man's drink. But unlike lambanog a drink that made from coconut, laksoy is made from the sap of nipa palm.
For 10 pesos you can buy one lapad (my estimate of 400ml) from the laksoyan (distiller). This drink is usually imbibed during special occasions, which probably meant every time people have the urge to get intoxicated.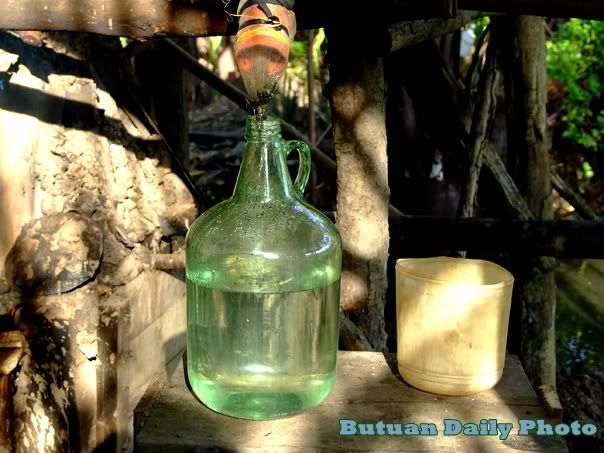 When we visited a laksoyan at Babag near Agusan Pequeno, the laksoy maker were very gracious and patient with all our questions. He even let us have a taste of the laksoy free of charge. I'm not really much of a drinker so I can't describe what I tasted as well as I would've liked but I'll try. The smell was quite potent but with sweet undertones to it. I delicately sipped (actually I gulped-- really deceiving initial impression) the offered liquor and immediately my eyes watered. It was strong.
I bought some for my cousins to try. They liked it. Some mixed it with coke and a some drank it with chasers.
One question about my last post was about the laksoy flavors being sold on the market. They have a few selections of mango, langka (jackfruit), pineapple, strawberry, and dried fruits (no mention about what fruits they were on the bottle) which is the most expensive at 150 pesos or approx 3 dollars.
More info about laksoy
here.